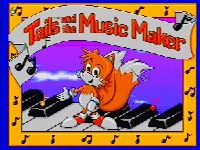 Tails and the Music Maker was released in North America in September 1994, on the Sega Pico system for children's education. It was later published in Japan by Imagineer in December 5, 1995. The main character is Miles "Tails" Prower, who uses this game to teach children about music. The object of the game is to learn musical scales, tempo, rhythm, and about Musical instruments, and then match the music to the instruments. The player may also create his or her own music.
Music Maker was the second and final Sonic-themed title released for the Pico. The game was originally developed by Novotrade (now known as Appaloosa Interactive) for the American market, but was also released in Japan by Imagineer. Young Pico players join social peer Miles "Tails" Prower on a small excursion that takes him through a handfull of musical-themed minigames.
Players can control Tails with the touch pen or action buttons. The blue button makes Tails walk left, while the green button instructs him to proceed to the right. Press the orange or white buttons to make Tails leap, or use the red button for a super jump. Use the touch pen to click on various points in the scene and have Tails fly over to investigate. There is no overarching goal - kids just play around until boredom facilitates a migration to greener diversions.
Screenshots
Edit