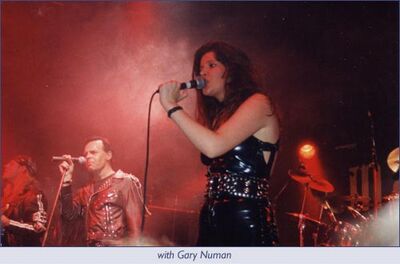 TJ Davis is a British singer. She started as a backing vocalist for Gary Numan, D:Ream, and Blur, and quickly developed a career of her own. She is known among video game music aficionados for working with award-winning composer Richard Jacques on the soundtracks of Sonic R and Metropolis Street Racer. She has been a member of ABBA tribute band Björn Again, performing as 'Frida Longstockin' since 1998. She released the trance single "Wonderful Life" - a cover of a 1980s pop song by Colin Vearncombe - in December 2001. It was a collaboration with trance outfit, Ian van Dahl. It reached number 42 in the UK Singles Chart. In 2002, Davis recorded the vocals on the Sash! song, "I Believe".
Davis performed at the Summer of Sonic 2008 event,[1] with a set list of "Diamond In The Sky," "Can You Feel The Sunshine?" (both from Sonic R), "I Can Still Believe," and "Dreams Dreams" with Bentley Jones.
Davis continues to release both solo and collaborative material.
Albums/Singles
Edit
Dream Corrosion - Gary Numan live at hammersmith apollo
©1994 Numa records © 2003 Eagle records
Universal - Blur
© 1995 Food ltd EMI records
World - D:ream
© 1995 Warner Music Uk Ltd
The Power featuring TJ Davis - D:ream
© 1995 Warner Music Uk Ltd
Brilliant Feeling - The Full Monty All Stars
© 1996 BMG featuring TJ Davis
Yesterday has gone - Pj Proby & Marc Almond
© 1996 EMI Records Ltd
Answer My Prayer - Danny Campbell
© 1997 Jackpot Records Ltd
Let there be love - Shiva c/unit28 records/ 7pm Records
Breakout - Seventh Sense feat TJ p&
© 1998 Domestic records
Sonic R - Sega Saturn
© 1998
Metropolis Street Racer - Sega Dreamcast
© 1999
Live at the Royal Albert Hall - Bjorn Again
© 1998 BA Records Ltd UK
Dream as one - Nylon
© 2000 Y2k recordings
Wonderful Life - TJ Davis
© 2001 Melting Pot Records (licensed from Y2k)
I Believe - Sash feat TJ Davis
© 2003 xit records
© 2003 Virgin Records
References
Edit
External links
Edit
Ad blocker interference detected!
Wikia is a free-to-use site that makes money from advertising. We have a modified experience for viewers using ad blockers

Wikia is not accessible if you've made further modifications. Remove the custom ad blocker rule(s) and the page will load as expected.