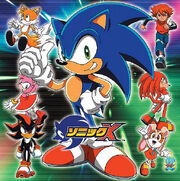 The Sonic X Original Soundtrack, (a.k.a Sonic X OST) is the collection of BGMs used throughout the television show Sonic X. It was released in Japan on March 3, 2004.
Track List
Edit
SONIC DRIVE TV version
Episode 1: Sonic No Tatakai [Sonic's Fight]
Episode 1: Eggman
Episode 1: Sonic
Episode 16: Okano Ueno Shiroi Hana [The White Flower On Top Of The Hill]
Episode 2: Kaiketsu Sonic [Sonic's Solution]
Episode 21: Messenger Robo EGG version
Episode 3: Eggman Machine
Episode 1: Chris Tono Deai [Encounter With Chris]
Episode 6: Hadeni Toujyou Papa To Mama [Extravagant Appearance of Mom & Dad]
Episode 34: Shadow #1
Episode 32: Super Sonic
Episode 34: Shadow #2
Episode 5: Emmy's Hike [Amy's Hike]
Episode 20: Hasshin Eggfort [Eggfort Launch]
Episode 8: X-Tornado
Episode 28: Battle
Episode 14: Yokattane! [All Right!]
Episode 19: Obake!? No Tango! [The Ghost's!? Tango]
Episode 19: Emmy's Hammer [Amy's Hammer]
Episode 11: Kaitou Sexy Rouge [Mysterious & Sexy Thief Rouge]
Episode 1: S-Team #1
Episode 17: Hawk (China Hen) [Hawk (Chinese Compilation)]
Episode 18: Eggman No Africa Hen [Eggman's African Compilation] FTP
Episode 14: Adventure
Episode 14: Helen No Yuusyoku [Helen's Dinner]
Episode 29: X-Tornado Battle
Episode 29: Master Emerald
Episode 28: Chaos
Episode 4: Family
Episode 1: S-Team 2
Episode 14: The Thorndyke [The Thorndyke Family]
Episode 5: Tornado Kirikirimai [Tornado Going Round And Round]
Episode 35: GUN
Episode 26: Gattai [Coalescence]
Episode 24: Dark Eggman
Mi-Ra-I
SONIC DRIVE Full version
SONIC DRIVE Hironobu Kageyama only version
SONIC DRIVE Hideaki Takatori only version
Ad blocker interference detected!
Wikia is a free-to-use site that makes money from advertising. We have a modified experience for viewers using ad blockers

Wikia is not accessible if you've made further modifications. Remove the custom ad blocker rule(s) and the page will load as expected.