Game Info
Edit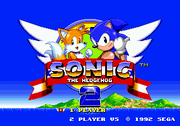 Sonic the Hedgehog 2
, or simply
Sonic 2
, is a platform game developed by American studio Sega Technical Institute in collaboration with Sonic Team, and published by Sega for the Mega Drive/Genesis. It was released in Japan on and in North America and Europe three days later on . It is the sequel to
Sonic the Hedgehog
and was followed by
Sonic the Hedgehog 3
in 1994. The game introduces Miles "Tails" Prower as a new playable character.
Track List
Edit
1. Title2. Menu
3. Emerald Hill Zone (2-Player)
4. Mystic Cave Zone (2-Player)
5. Casino Night Zone (2-Player)
6. Results Screen
7. Unused Tune - Hidden Place (Sound Test Track 10)
8. Emerald Hill Zone
9. Invincibility
10. 1-Up
11. Special Stage
12. Get Chaos Emerald
13. End of Act
14. Get Continue
15. Chemical Plant Zone
16. Dr. Robotnik
17. Game Over
18. Continue
19. Aquatic Ruin Zone
20. Running Out Of Oxygen!
21. Casino Night Zone
22. Hill Top Zone
23. Super Sonic
24. Mystic Cave Zone
25. Oil Ocean Zone
26. Metropolis Zone
27. Sky Chase Zone
28. Wing Fortress Zone
29. Death Egg Zone
30. Final Boss
31. Ending
32. Staff Roll
Ad blocker interference detected!
Wikia is a free-to-use site that makes money from advertising. We have a modified experience for viewers using ad blockers

Wikia is not accessible if you've made further modifications. Remove the custom ad blocker rule(s) and the page will load as expected.