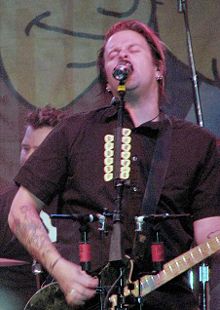 Jaret Reddick (born March 6, 1972 in Grapevine, Texas, United States) is the lead vocalist/lead guitarist for rock band Bowling For Soup. He plays a trademark guitar that has a flag of Texas design on it.
In 2008, Reddick teamed up with SEGA to work on the theme song for Sonic Unleashed, entitled "Endless Possibility". He wrote the lyrics for and performs the theme.
Ad blocker interference detected!
Wikia is a free-to-use site that makes money from advertising. We have a modified experience for viewers using ad blockers

Wikia is not accessible if you've made further modifications. Remove the custom ad blocker rule(s) and the page will load as expected.