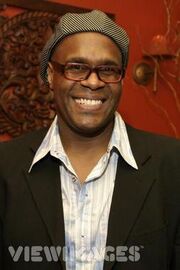 Everett Bradley is a musician, singer, actor, dancer, choreographer and vocalist. Vocalist Theatre World winner and Grammy nominated, Everett Bradley starred and cowrote Bway's SWING, directed and performed STOMP, has performed and toured with Jon Bon Jovi, Carli Simon,Bobby McFerin and currently Hall and Oates. He is best known for his work in the game Sonic Adventure 2. He performed the theme song for Shadow the Hedgehog in this game, the song called Throw It All Away.
Ad blocker interference detected!
Wikia is a free-to-use site that makes money from advertising. We have a modified experience for viewers using ad blockers

Wikia is not accessible if you've made further modifications. Remove the custom ad blocker rule(s) and the page will load as expected.