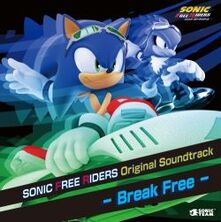 Break Free is the official soundtrack for Sonic Free Riders, the third installment of the Sonic Riders series.
Information
Edit
Catalog Number: WM-0639
Release Date: December 8, 2010
Publish Format: Commercial
Release Price: 1800 JPY
Media Format: CD
Classification: Original Soundtrack
Published by: Wave Master
Composed by: Tomonori Sawada, Koji Sakurai and Jun Senoue
Performed by: Chris Madin and Crush 40
Track List
Edit
Free - Main Theme of Sonic Free Riders
Start-Up Your EX Gear! (Free Riders Version)
Get Ready for the Big Event
Free (Crush 40 Version)
Ad blocker interference detected!
Wikia is a free-to-use site that makes money from advertising. We have a modified experience for viewers using ad blockers

Wikia is not accessible if you've made further modifications. Remove the custom ad blocker rule(s) and the page will load as expected.